New ICT library at HMP Highpoint
James Tweed, Managing Director of Cambridge based Coracle Online Ltd, organised the creation of a new library of over 140 specialist IT books for inmates of HMP Highpoint following Level 2 and 3 Certificate in ICT Systems and Principles for Practitioners (Procom) course.
Mr Tweed commented, "this new library has been donated by companies based at St John's Innovation Centre, Cambridge, including Coracle Online, Icodeon and Chemical Computing and represents an important example of how local businesses can be involved in supporting a socially important cause. Reoffending rates represent a major problem in the UK and if we are to tackle the appalling waste of both public money and potentially valuable human resource, we must find ways to support the education of those prisoners who are willing and able to engage."
The library was delivered on 4th March at the quarterly Employer Engagement Event. In attendance was the Minister for the Cabinet Office and Paymaster General, Matthew Hancock MP, who gave an informed and thought provoking speech about the importance of the role that local businesses can play in the quest to reduce re-offending rates.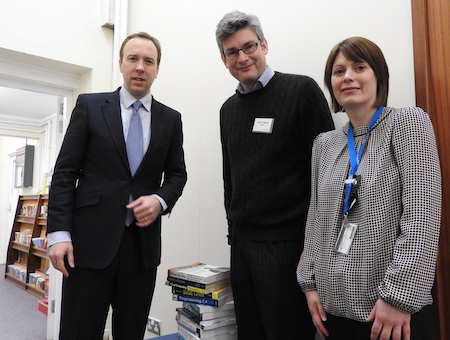 The staff at Highpoint have a proactive approach in their work towards reducing reoffending rates and recognise the importance of working with businesses in the local community as a key part of meeting their goals. Lisa Howarth, Business and Community Engagement Manager, said, "We are grateful to James at Coracle for supporting our Employer Engagement work at Highpoint. Support such as this makes a real difference to prisoners and undoubtedly uplifts their learning experience"